From the Britannica Library Reference Center:
"The origins of the blues are poorly documented. Blues developed in the southern United States after the American Civil War (1861–65). It was influenced by work songs and field hollers, minstrel show music, ragtime, church music, and the folk and popular music of the white population. Blues derived from and was largely played by Southern black men, most of whom came from the milieu of agricultural workers. The earliest references to blues date back to the 1890s and early 1900s. In 1912 black bandleader W.C. Handy's composition "Memphis Blues" was published. It became very popular, and thereafter many other Tin Pan Alley songs entitled blues began to appear.
The rural blues developed in three principal regions, Georgia and the Carolinas, Texas, and Mississippi. The blues of Georgia and the Carolinas is noted for its clarity of enunciation and regularity of rhythm. Influenced by ragtime and white folk music, it is more melodic than the Texas and Mississippi styles. Blind Willie McTell and Blind Boy Fuller were representative of this style. The Texas blues is characterized by high, clear singing accompanied by supple guitar lines that consist typically of single-string picked arpeggios rather than strummed chords. Blind Lemon Jefferson was by far the most influential Texas bluesman. Mississippi Delta blues is the most intense of the three styles and has been the most influential. Vocally, it is the most speech-like, and the guitar accompaniment is rhythmic and percussive; a slide or bottleneck is often used. The Mississippi style is represented by Charley Patton, Eddie ("Son") House, and Robert Johnson, among others.
The first blues recordings were made in the 1920s by black women such as Mamie Smith, Ma Rainey, Ida Cox, and Bessie Smith. These performers were primarily stage singers backed by jazz bands; their style is known as classic blues.
The Great Depression and the World Wars caused the geographic dispersal of the blues as millions of blacks left the South for the cities of the North. The blues became adapted to the more sophisticated urban environment. Lyrics took up urban themes, and the blues ensemble developed as the solo bluesman was joined by a pianist or harmonica player and then by a rhythm section consisting of bass and drums. The electric guitar and the amplified harmonica created a driving sound of great rhythmic and emotional intensity.
Among the cities in which the blues initially took root were Atlanta, Memphis, and St. Louis. John Lee Hooker settled in Detroit, and on the West Coast Aaron ("T-Bone") Walker developed a style later adopted by Riley ("B.B.") King. Riley ("B.B.") KingIt was Chicago, however, that played the greatest role in the development of urban blues. In the 1920s and '30s Memphis Minnie, Tampa Red, Big Bill Broonzy, and John Lee ("Sonny Boy") Williamson were popular Chicago performers. After World War II they were supplanted by a new generation of bluesmen that included Muddy Waters, Chester Arthur Burnett (Howlin' Wolf), Elmore James, Little Walter Jacobs, Buddy Guy, and Koko Taylor.
The blues have influenced many other musical styles. Blues and jazz are closely related; such seminal jazzmen as Jelly Roll Morton and Louis Armstrong employed blues elements in their music. Soul music and rhythm and blues also show obvious blues tonalities and forms. The blues have had their greatest influence on rock music. Early rock singers such as Elvis Presley often used blues material. British rock musicians in the 1960s, especially the Rolling Stones, Eric Clapton, and John Mayall, were strongly influenced by the blues, as were such American rock musicians as Mike Bloomfield, Paul Butterfield, and the Allman Brothers Band.
SPOTLIGHTED BLUES & FOLK ARTISTS AT DAVENPORT PUBLIC LIBRARY
Ma Rainey's Black Bottom
Call Number: CD 781.643 Rai
Appointed "Mother of the Blues" during her '20s heyday, singer Ma Rainey was one of the best of the many classic female blues singers of the period. An inspiration to the "Empress of the Blues," Bessie Smith, Rainey was a Georgia native who was discovered in Chicago during the early '20s. While not the possessor of a voice as powerful as Smith's, Rainey still cut a slew of strong sides featuring a fine blend of country blues intensity and jazz-band sophistication. This excellent Yazoo collection captures Rainey in her prime from 1924-1928. Backed by large combos and minimal guitar and piano tandems, Rainey shines on such highlights as "Booze and Blues," "Shave 'Em Dry," and "Lucky Rock Blues." Topped off with stellar contributions by blues and jazz luminaries like Don Redman, Coleman Hawkins, Kid Ory, and Georgia Tom Dorsey, Ma Rainey's Black Bottom makes for an excellent introduction to blues singer's small but potent catalog. ~ Stephen Cook
Bessie Smith
Call Number: CD 781.643 Smi
Contents: good man is hard to find -- I ain't goin' to play no second fiddle -- Me and my gin -- Muddy water (a Mississippi moan) -- St. Louis blues -- Tain't nobody's bizness if I do -- Careless love -- The yellow dog blues -- Need a little sugar in my bowl -- Down hearted blues -- Nobody knows you when you're down and out -- On revival day (a rhythmic spiritual) -- Send me to the 'lectric chair -- Gimme a pigfoot and a bottle of beer -- Back water blue
John Lee Hooker--20th Century Masters
Like any record company worth their salt, MCA knows a good gimmick when they see it, and when the millennium came around -- well, the 20th Century Masters -- The Millennium Collection wasn't too far behind. Supposedly, the millennium is a momentous occasion, but it's hard to feel that way when it's used as another excuse to turn out a budget-line series. But apart from the presumptuous title, 20th Century Masters -- The Millennium Collection turns out to be a very good budget-line series. True, it's impossible for any of these brief collections to be definitive, but they're nevertheless solid samplers that don't feature a bad song in the bunch. For example, take John Lee Hooker's 20th Century volume -- it's an irresistible 12-song summary of his MCA and Chess years. There may be a couple of noteworthy songs missing, but many of his best-known songs for the label are here, including "One Bourbon, One Scotch, One Beer," "I'm in the Mood," "I'm Bad Like Jesse James," "Sugar Mama," "Ground Hog Blues," "It's My Own Fault," and "It Serves You Right to Suffer." Serious fans will want something more extensive, but this is an excellent introduction for neophytes and a great sampler for casual fans, considering its length and price. That doesn't erase the ridiculousness of the series title, but the silliness is excusable when the music and the collections are good. ~ Stephen Thomas Erlewine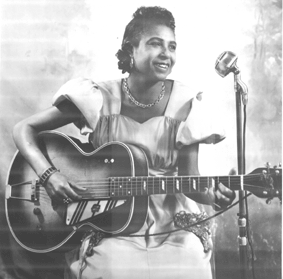 Memphis Minnie--Hoodoo Lady
Call Number: CD 781.643 Mem
Down in the alley (2:58) -- Has anyone seen my man? (2:43) -- I hate to see the sun go down (2:43) -- Ice man (come on up) (2:57) -- Hoodoo lady (3:02) -- I'm a bad luck woman (3:01) -- Caught me wrong again (2:54) -- Black cat blues (2:55) -- Good morning (2:57) -- Man, you won't give me no money -- (2:57) -- Keep on eatin' (2:37) -- I've been treated wrong (2:53) -- Good biscuits (2:40) -- Ain't no use tryin' to tell on me (I know something on you) (3:14) -- My butcher man (2:58) -- My strange man (2:58) -- If you see my rooster (please run him home) (3:16) -- My baby don't want me no more (2:46) -- Please don't stop him (2:55) -- I'm going don't you know (2:59
Muddy Waters: The Definitive Collection
Call Number: CD 781.643 MUD
There are scores of Muddy Waters compilations out there, and while it might be overreaching a bit to call this 24-track single-disc set definitive, it is still a mighty good selection, including as it does all of Waters' major singles from Chess Records and its Aristocrat Records imprint between the years 1948 and 1964 along with a single track from 1976's Hard Again, Waters' first actual LP, which was released on the Columbia subsidiary Blue Sky and produced by Johnny Winter. All that's really missing here in order to give this set a full sweep through Waters' career is a couple of tracks from the series of field recordings Alan Lomax did with Waters in 1941 and 1942 when Muddy was still known as McKinley Morganfield, with "I Be's Troubled" being the most likely candidate, since it was the song Muddy rewrote for his first single, 1948's brilliantly intimate "I Can't Be Satisfied," the song that kicks off this set.
Robert Johnson: The Complete Recordings
Call Number: CD 781.643 JOHNS ROB
A double-disc box set containing everything Robert Johnson ever recorded, The Complete Recordings is essential listening, but it is also slightly problematic. The problems aren't in the music itself, of course, which is stunning and the fidelity of the recordings is the best it ever has been or ever will be. Instead, it's in the track sequencing. As the title implies, The Complete Recordings contains all of Johnson's recorded material, including a generous selection of alternate takes. All of the alternates are sequenced directly after the master, which can make listening to the album a little intimidating and tedious for novices. Certainly, the alternates can be programmed out with a CD player or mp3 player, but the set would have been more palatable if the alternate takes were presented on a separate disc. Nevertheless, this is a minor complaint -- Johnson's music retains its power no matter what context it is presented in. He, without question, deserves this kind of deluxe box set treatment. ~ Stephen Thomas Erlewine
B.B. King: The Ultimate Collection
In theory, the idea behind Geffen's 2005 compilation The Ultimate Collection seems sound: gather together 21 iconic tracks from the entirety of B.B. King's long career and present them on one handy disc. While there have been plenty of King comps throughout the years -- some great, some merely passable, but often all very good -- there has never been one that tries to distill it all onto one disc. For good reason: it's hard to do. The Ultimate Collection does about as well as any multi-decade, cross-label comp could, hitting the most obvious high points -- "Three O'Clock Blues," "You Upset Me Baby," "How Blue Can You Get?," live versions of "Every Day I Have the Blues" and "Sweet Little Angel" from the peerless Live at the Regal, the smooth early-'70s hits "The Thrill Is Gone" and "Ain't Nobody Home" -- and extending all the way till 1998. While there's no hiding the fact that there is a sharp drop-off in classic material after 1972, most of the disc (a full 14 songs) is devoted to the '50s through '70s, and it does paint a portrait of the arc of his career. So, for those listeners who want a basic selection of high points from B.B., this is a good choice, but for those neophytes who want to truly experience B.B.'s greatness, turn to Live at the Regal or a collection of early singles -- they might not cover as much territory, but they explain more about his legend than this well-intentioned set. ~ Stephen Thomas Erlewine
The Very Best of Reverend Gary Davis
An expert ragtime and blues guitarist, Rev. Gary Davis recorded gospel, marches, ragtime, jazz, and minstrel pieces throughout his long career (which included recordings issued in every decade from the 1930s until his death in 1972), but turned increasingly to spiritual material, and it is for his own brand of gospel-blues that he is best known. This collection gathers material from the mid-'60s following Davis' discovery by the so-called folk revival, and it documents his raspy singing voice and expert guitar playing. His signature tune, a version of Blind Willie Johnson's "Tear This Building Down" called "Samson & Delilah," leads off this set and exemplifies the skill of this fine gospel bluesman. ~ Steve Leggett